Show the flag with LIQUI MOLY! Get a strong brand as a driving force behind your company.

(Almost) all advertising material shown here can be requested from the Export Area Manager responsible for your company and as a rule can be made quickly available.

You also receive from LIQUI MOLY an individual external sign that matches your company and your existing appearance. This option is very popular with workshops, independent filling stations or business houses and can also be discussed and planned with the responsible Export Area Manager. The making of the advertising boards is free; the client must only organize the installation.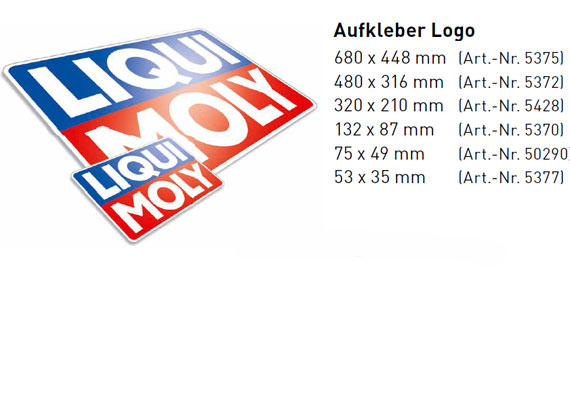 Adhesive label logo
680 x 448 mm (Part-No. 5375)
480 x 316 mm (Part-No. 5372)
320 x 210 mm (Part-No. 5428)
132 x 87 mm (Part-No. 5370)
75 x 55 mm (Part-No. 50290)
53 x 35 mm (Part-No. 5377)
Services boards, display window labels and posters
The attractive outdoor signage is individually designed and fabricated. LIQUI MOLY bears the costs (except installation).