Earning money with additives

If an oil change is a duty, our Car Performance Plan is a pleasure! Workshops and car dealerships that make use of this concept are characterized as proactive service providers and offer their customers a significant added value in addition to classic service work. The sales concept is based on the advice and sales of additional services regarding the car and works worldwide. The idea: In addition to their requested service or repair, car owners receive an offer individually tailored to their car, its mileage and general condition. Here, not only the right LIQUI MOLY products are offered, but complete service packages,which put greater emphasis on the benefits for end customers.

And the great thing is: you can begin implementing this concept straight away! The basis for this is our hot off the presses "CarPerformance Plan" brochure with a total of 14 pre-defined performance packages. Of course, it is possible to combine all services with one another and even add new ones. Our fullrange offers hundreds of opportunities– simply choose the right services for your workshop and country! New service packages bring additional sales and – even more importantly –a high profit margin. Plus, you avoid the pricing pressure and comparability that is created when selling individual products. When putting together the service packages we have made sure that the work is easy to carry out. In order to inspire workshops for this concept an Excel calculation tool was also developed, which shows a clear overview of additional earnings.

A pioneer of the Car Performance Plan is LIQUI MOLY Mexico, which has practiced the principle for many years, particularly at car dealerships. In fact, additional personnel has been hired for this purpose, who greet car owners in the work- shops and give advice on choosing the right service packages. The customers are then accompanied to the service desk, where the respective workshop completes the sale itself. In spite of the high level of investmentin these in-house brand ambassadors, the model has really paid off for both LIQUI MOLY Mexico and for its customers. Many other countries have already discovered this enormous potential for sales: received in practical tests.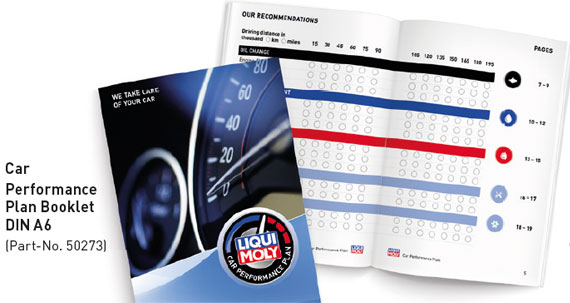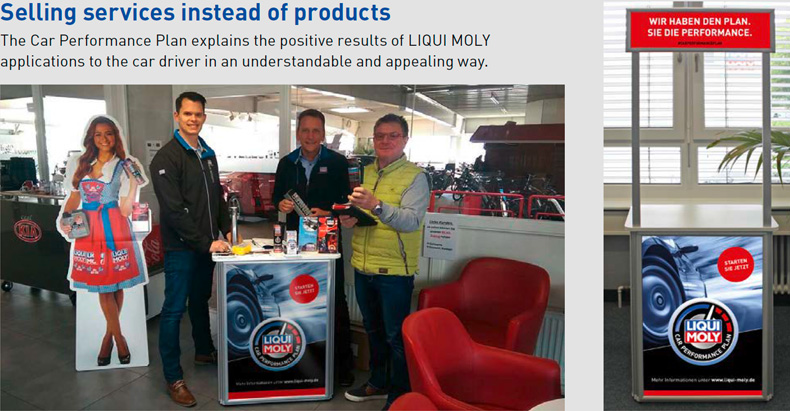 High return with low investment
Every time a vehicle passes through your shop, forcustomer service or for an emissions inspection, why not clean up the entire engine system? Your customers will appreciate it. The vehicle's operating life and performance will increase, fuel consumption will bereduced and you will reap the benefits of a welcome source of additional business.

Either add the LIQUI MOLY Pro-Line Fuel Injection Cleaner or Diesel System Cleaner to the tank or use ourJetClean unit and the cleaning fluid developed for ultra-intensive cleaning.

Important:
Show your customers the performance provided by our LIQUI MOLY performance guarantee. JetClean consists of a special stainless steel container that has capacity for 5 liters of Fuel System Intensive Cleaner or Diesel System Intensive Cleaner.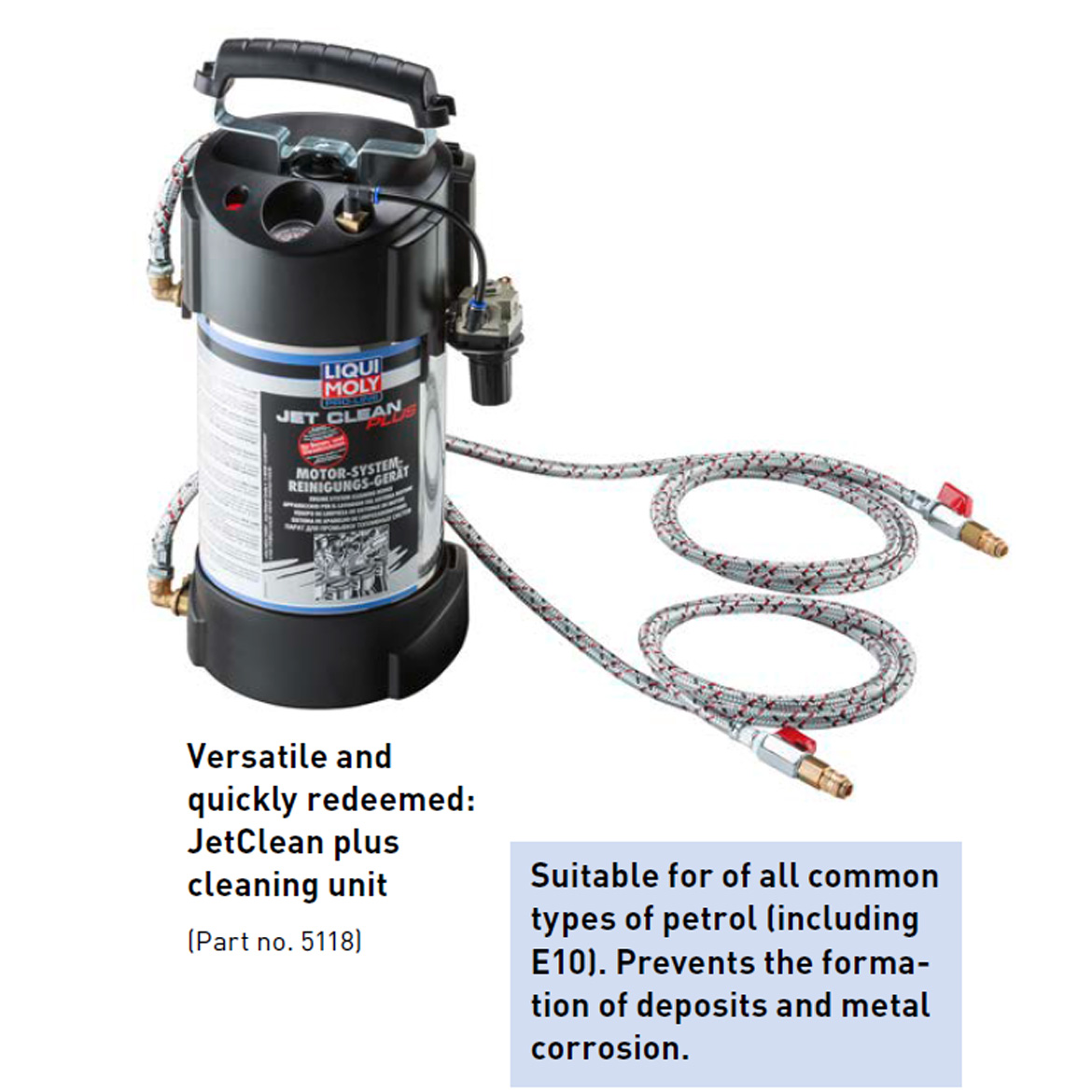 Optimize the emission values before the emissions inspection.

All products have one thing in common: They reduce CO and HC emissions as well as soot and optimize the values before the emissions inspection. They clean contaminated gasoline injection systems, remove carbon and other deposits in the combustion chamber, in the mixture preparation systems and at the injection valves and intake valves and ensure precise dosage of injection quantities and fuel atomization. The engine regains its original output and fuel consumption is lowered. Successfully tested according to internationally standardized CEC bench tests. An environmentally friendly combustion process is guaranteed. Compatible with turbochargers and catalytic converters.
Engine output that you hear and feel.

LIQUI MOLY Pro-Line "Diesel System Cleaners" reduce pollutant emissions and thus optimize smoke opacity before the emissions inspection. They clean injection nozzles and the entire fuel system of troublesome deposits, prevent the seizing and gumming up of nozzle needles, increase the ignition performance of the diesel fuel and optimize the combustion process: The engine regains its original performance and the knocking is reduced. Overall the engine runs smoother and starts more easily. Successfully tested in international bench tests.
Depending on the injection system, the JetClean container is brought up to the appropriate system pressure or pre-delivery pressure on gasoline or diesel vehicles. Special adapters and fittings supplied together with the unit make it quick and easy to connect the JetClean unit's hoses to the respective injection system without removing components of the injection system for cleaning purposes. Within a very short time (10 –30 min.), JetClean cleans the fuel distributor, control plungers, injection valves, injection nozzles, combustion chambers, intake valves and other components of the injection system. 5 l of Fuel or Diesel System Intensive Cleaner are sufficient for cleaning several systems even with heavy deposits.

JetClean is not only used for remedial purposes but is also used to regularly maintain and keep the system clean. The investment for the JetClean unit is recovered after only a few applications.
10 tips for successful businesses with fuel and oil additives in the workshop
Selling additives increases the annual yield of the workshop without additional work or time.
Wake up your customers' "problem awareness" for engine system cleaning. Directly address possible problems with your customers (for example fuel consumption, starting problems, etc.).
Instead of selling "1 can of additive", offer engine system cleaning (gasoline / diesel additives) or long-term wear protection (oil additives).
Don't sell the additive on its price but on its performance. Highlight the possible solutions through the use of additives. Bring up the advantages of additives and how they work. Explain the individual benefits the customer will gain from the use.
Explain to your customers that deposits form in the combustion process in every engine, particularly on valves and injectors.
Explain the consequences:
deposits = loss of performance = increased fuel consumption = increased pollutant emission.
Fuel additives reduce these deposits or prevent their formation in the first place:
no deposits = optimum performance = reduced fuel consumption = lower pollutant emission.
All additives are accurately tested for compatibility with all fuels and engine oils. Negative effects are guaranteed not to take place.
Bring your technical knowledge and skill to bear in your sales pitch. Use short and easy words in combination with pictures from the brochures to explain to your customer the backgrounds and causes of the problems that occur (for example contamination in the system) and the consequences arising from this (rough engine running, high fuel consumption). Point out possible consequential damage and the corresponding costs such as exchange of the valves, among other things. Show compression test logs and carbon deposits on valves, for example, and explain that for just a low price the customer receives a sparkling clean engine.
Take advantage of the training opportunities, technical information and brochures or advertising materials for support.
Cleaning instead of replacing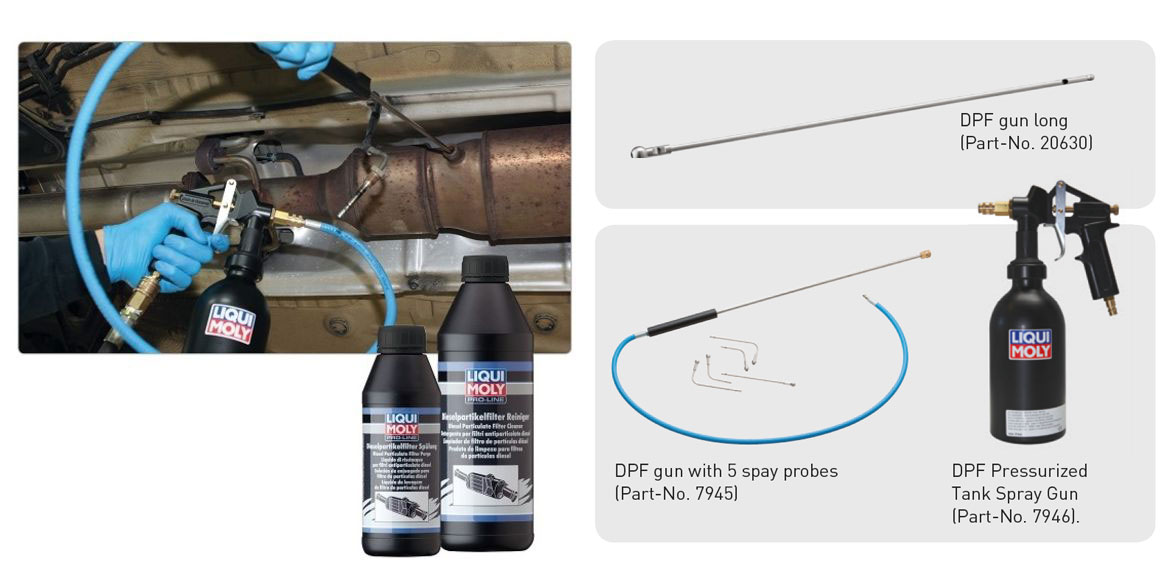 When the diesel particulate filter reaches its maximum degree of filling, the ECU (electronic control unit) automatically starts the filter regeneration program: more diesel fuel is injected and the exhaust gas temperature increases. These high exhaust gas temperatures usually burn away the soot particles. But when diesel vehicles are used for short distance trips the diesel particulate filter does not always reach temperatures high enough to burn the accumulated soot particles. The filter gets clogged.

With the specially developed diesel particulate filter cleaning set the filter can be cleaned in a fast and economical manner without having to replace it. The only things you need to clean the filter is our Pro-Line Diesel Particulate Filter Cleaner and our Pro-Line Diesel
Particulate Filter Purge to use in the DPF Pressurized Tank Spray Gun.
LIQUI MOLY Pro-Line additives have been specially developed for the requirements in professional workshops. All Pro-Line additives are also available in large containers specifically for the commercial vehicle sector.