Quality products for supercars: a fast and effective way to maintain their value
For many car owners, maintaining and/or increasing the value of their supercar is very important. However, this often involves a lot of effort, as cleaning, sealing and so on take time. But isn't there a quick yet effective solution for now and then? Yes there is!
Paintwork, fabric top, plastic and leather – with our products you can optimally care for all surfaces and materials. As versatile as our products are, they all have one thing in common: they are quick, easy and effective. Spray on or apply, wipe off or rub in, with or without exposure time. So there is nothing standing in the way of you maintaining the value of your supercar for the long term with minimal effort.
Care for body and paintwork
When it comes to maintaining value in this category of car, particular attention must be paid to the paintwork. Even if your supercar is only driven infrequently on Sundays, it is not spared the usual weather and environmental influences on the road, such as insects, sunlight or moisture.
Insect residue is probably one of the most common types of dirt that your supercar paintwork comes into contact with. This should be removed as quickly and gently as possible before the car is parked in the garage for a long period of time again. The combination of protein and chitin that insects are made of attacks the paintwork. If these are not removed quickly, unsightly stains can appear, which require great effort to remove.
Maintenance of plastic components
Even expensive supercars have plastic components. This is not to reduce costs, but for the performance-enhancing lightweight construction techniques.
On the one hand, plastic components reduce the weight of the car and thus enable faster acceleration, but on the other they are high-maintenance. Various environmental influences such as strong UV radiation in summer or low temperatures in winter lead to premature weathering.
Care for convertible soft tops
If your vehicle has a fabric convertible soft top, this means additional problem areas that require special care. Too much UV radiation can cause the fabric to fade. Dirt, insect residues or bird droppings can eat into the fabric and leave stains. Water marks caused by moisture or rain are also unsightly and very difficult to remove. This not only affects the appearance of your supercar, but also reduces its value.
We are here to help. With our premium products, you can ensure optimum protection and help to maintain the value of your super sports car.
The interior, including the dashboard and leather seats, is just as important for maintaining the value of your supercar as its exterior appearance. This is because the interior is subject to similarly high stresses from UV radiation as external plastic parts. Plastic dashboards and leather seats or decor fade over time. In addition, they may show visible signs of use.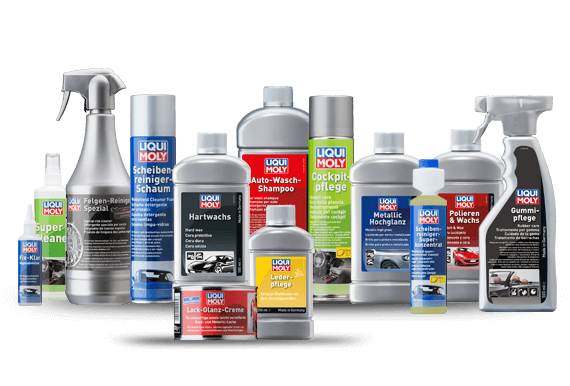 If you want to do a little more than just the minimum maintenance, take a look at our range of care products. We offer everything from problem-solvers for specific applications such as removing tar or silicone to everyday car wash helpers such as cleaning and care products for glass, rims, tires, rubber and chrome.